Our Facility
Surrounded by lush greenery, our 6 acre facility is a short drive away from Downtown Boston and offers 1.5 acres of living space. Our newly renovated residences offer all the amenities needed to feel relaxed and help our clients focus on their recovery.
Contact Us
Recovery Suites
Our recovery suites are comfortable and feature two single beds with a relaxing layout. Each suite has a shared bathroom, where all hygiene products are provided for patients to use during their stay.
Fitness Center
Patients on residential units have access to an on-site gym that features ellipticals, treadmills, weights, and studio gym classes provided by certified instructors. Our fitness options are designed to encourage a wellness-oriented approach to recovery.
Outdoor Space
We have an expansive outdoor patio space with spacious seating, a pergola, basketball courts, and an inflatable projection screen for outdoor movies during summer. This space is available during scheduled breaks throughout the day.
Movie Theater
Residential patients have access to an on-site movie theater. Our theater includes 9 comfortable recliner chairs and a large movie screen, and there are weekly scheduled movie nights for each residential unit.
Our Facility
Our facility is a newly remodeled healthcare building offering 160 beds and a host of amenities. We have one detox unit, two residential units for substance use, and one residential unit dedicated to primary mental health patients.
Amenities At Bedrock
Our facility offers all the amenities needed to help our clients relax and focus on their recovery.
Beautifully Remodeled State of the Art Facility
Movie Theatre
Fitness Center
Yoga Studio
Laundry Services
Delicious & Fresh Meals
Gluten, Vegetarian Options Available
About Bedrock Recovery Center
Bedrock Recovery Center is a state-of-the-art Drug & Alcohol Detox and Inpatient Rehab. Our passion is to help individuals and their families cope with substance use disorders and primary mental health disorders. We also specialize in Dual Diagnosis treatment, getting down to the core of the problem. Our mission is to provide trauma-informed, evidenced-based, culturally humble, gender-responsive, and family-centric services to individuals suffering from substance use disorders.
FAQs
Here are our most frequently asked questions. Still have questions?
Often times, your health insurance plan can cover a majority of the cost of your treatment. Not sure where to start? We can help verify your insurance plan and point you in the right direction, even if it's not with us.
If you live in the state of Massachusetts, there is a law that passed, known as Section 35. Under this law, it "allows a qualified person to request a court order requiring someone to be civilly committed and treated involuntarily for an alcohol or substance use disorder". Read more about Section 35 and speak with one of our treatment specialists today to help assist you through this process.
Yes, we have designated areas for smoking.
Absolutely! Call our treatment specialists to discuss your specific situation. Often times we are able to send a certified interventionist to help assist in not only the intervention, but to also oversee your loved one's transportation to rehab.
Keep in mind that when you're in treatment, you want to take the time to focus on yourself and your recovery. However, we understand that our patients have responsibilities outside of treatment and can make accommodations to comply with certain requests. To find out more, call and talk to our treatment specialists today.
If this is your first time looking into treatment options, understanding your benefits can be challenging. But not to worry, that's what we're here for! You can verify your insurance coverage with us, and a treatment specialist will let you know exactly what your insurance will cover. Even if we can't take your insurance, we will provide options for you and point you in the right direction.
The Americans with Disabilities Act (ADA) has given protected rights for people suffering from substance abuse. By filing for FMLA, you can help protect your job while you are in treatment. Our treatment specialists will go over different options with you and help you file the necessary paperwork you need to help protect your job. This process is discrete as we are HIPAA compliant.
Talking to a loved one about addiction treatment can be tough. It's important to go about it in a healthy way, without them feeling judged or pressured. Our treatment specialists can help guide you step by step during the process, so do not hesitate to call.
Substance abuse treatment often comes in multiple stages. The stages are dependent on what substance(s) an individual is using and how often. Typically, treatment consists of detox, inpatient/residential treatment and/or intensive outpatient treatment. This process usually takes on average 90 days. An individualized plan will be made for each patient by their clinician and therapist.
Prefer Texting?
We've got you covered.
Receive 24/7 text support right away.
There is no obligation and you can opt out at any time.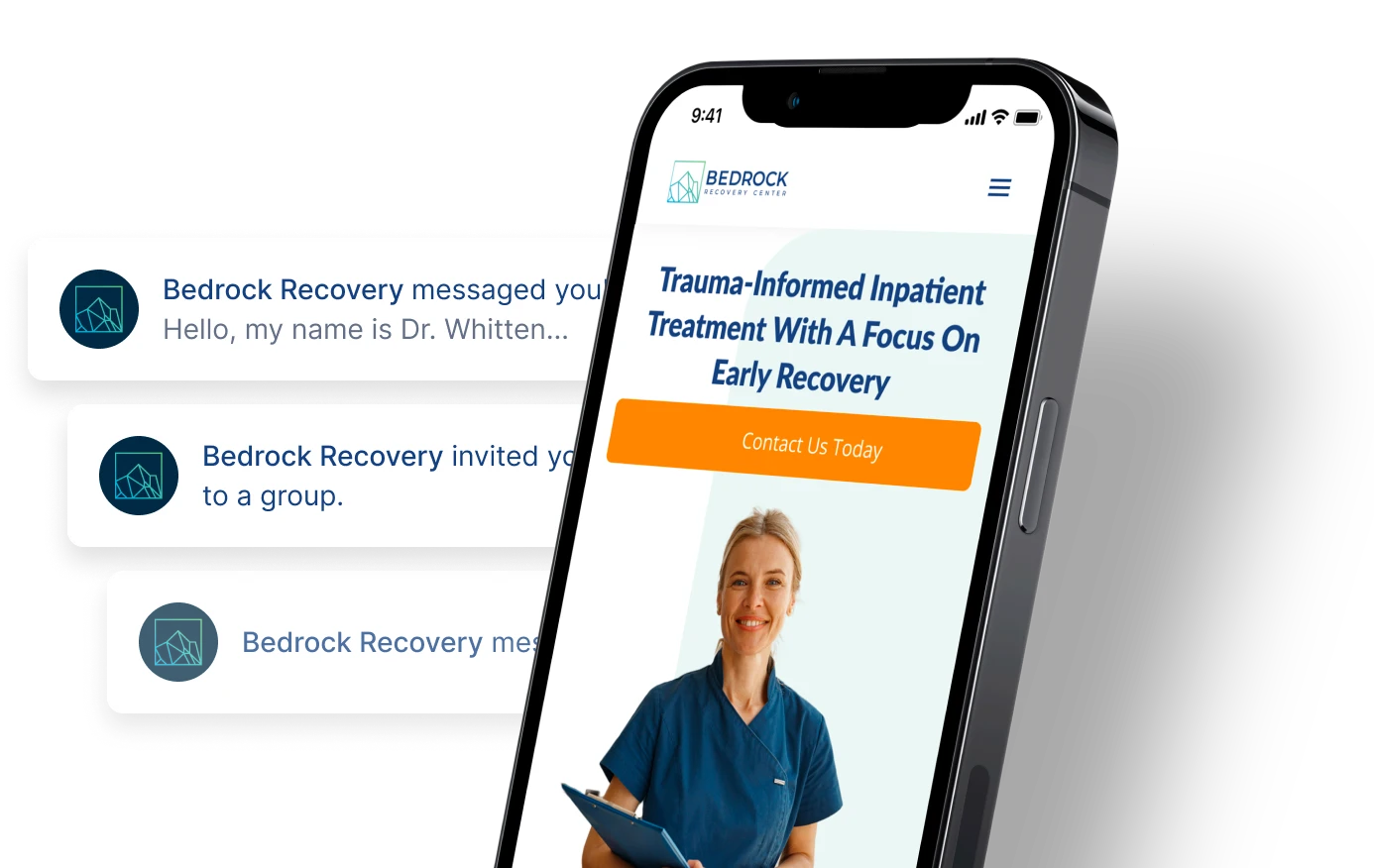 Sign up for text support