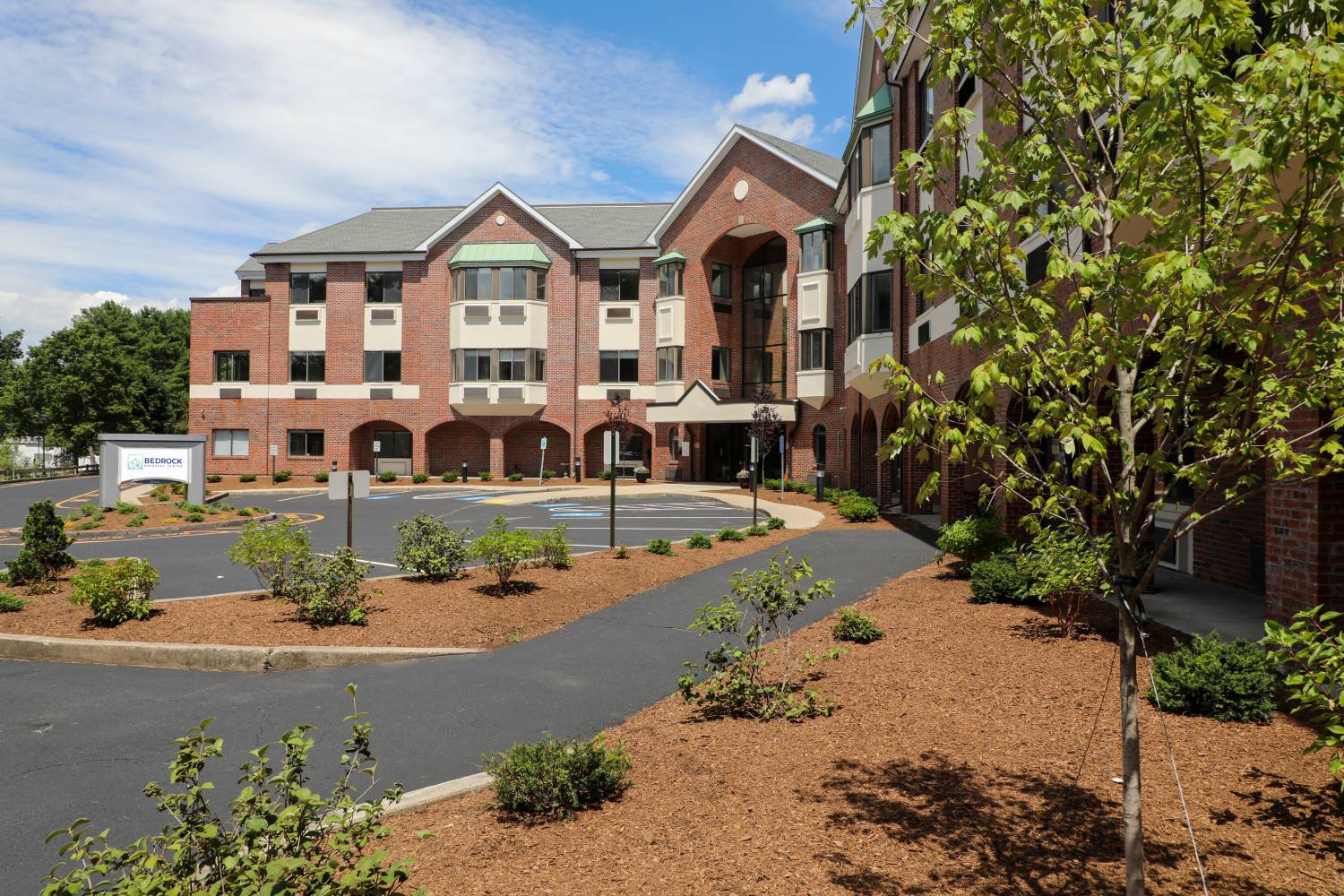 At Bedrock Recovery Center (BRC), we offer short-term residential treatment for mental health disorders, including:
anxiety disorders, such as generalized anxiety disorder, panic disorder, and social anxiety disorder
attention-deficit/hyperactivity disorder (ADHD)
bipolar disorder
borderline personality disorder (BPD)
depression
eating disorders, such as anorexia nervosa and bulimia nervosa
obsessive compulsive disorder (OCD)
post-traumatic stress disorder (PTSD)
schizophrenia
Our one-of-a-kind, trauma-informed program can help you or your loved one learn to manage your mental health in a structured, supervised environment.
Bedrock's Residential Mental Health Program
During residential treatment at BRC, you live at our treatment facility and receive 24/7 care. You will likely stay at our facility for 30 days, depending on your needs.
When you enter our residential program, our team of psychiatric nurse practitioners and clinical providers will evaluate your situation and create a personalized treatment plan just for you.
Your treatment plan may include:
Short-term stabilization
Psychosocial treatments
Wellness activities
Short-Term Stabilization
Our residential services for mental health help patients stabilize during a crisis and connect with supportive resources for both during and after treatment. Stabilization services available at BRC include:
Psychiatric monitoring and evaluation
Daily living skills training
Social activities
Counseling
Treatment planning
Our short-term stabilization services are ideal for patients and families seeking an alternative to inpatient psychiatric hospitalization. Our program also works well as a residential step-down option following inpatient psychiatric care.
Medication Management
Patients on the pathway to improved well-being and mental health have their medications adjusted or managed as needed. Our psychiatric treatment team, including a psychiatrist and psychiatric nurse practitioners, determine medication adjustment when applicable.
Common Medications
The most common medications used to treat mental health conditions include:
Anti-anxiety medications, such as buspirone (BusPar), hydroxyzine (Vistaril), and benzodiazepines like alprazolam (Xanax) and clonazepam (Klonopin)
Antidepressants, such as sertraline (Zoloft), fluoxetine (Prozac), and bupropion (Wellbutrin)
Antipsychotics, such as aripiprazole (Abilify), lurasidone (Latuda), and quetiapine (Seroquel)
Mood stabilizers, such as lithium, lamotrigine (Lamictal), and oxcarbazepine (Trileptal)
Stimulants, such as amphetamine (Adderall), Dexedrine (dextroamphetamine), and methylphenidate (Ritalin)
During our program, your medication is more likely to be adjusted or managed rather than completely overhauled.
Individual & Group Psychotherapy
Our residential treatment plans include multiple sessions of psychotherapy per day. Psychotherapy is available individually with your assigned clinician as well as in process group settings.
Some of the psychotherapies we offer include:
Community reinforcement approach (CRA)
Family psychoeducation therapy
Eye movement desensitization and reprocessing therapy (EMDR)
Exposure therapy
Interpersonal Therapy
Group therapy plays an important role in mental health treatment at BRC. Our clinical experts facilitate each meeting to help participants feel validated and supported by others with similar life experience.
Psychosocial Treatments
Psychosocial treatments at BRC take advantage of our social setting to help you navigate your mental health concerns. They can also help your family and friends learn how to best support your recovery. Our psychosocial treatment options include:
Psychoeducation groups
Self-help and support groups
Coping skills development
Family counseling
Vocational training
Independent living training
Case management
Aftercare planning
After completing residential treatment, some people struggle to lead healthy, independent lives. BRC's program, however, helps you develop coping skills and gain resources (such as housing and a job) so you can live as independently as possible.
Wellness Activities
When recovering from a mental health condition, it's important to engage in activities that promote your overall sense of wellness. That's why we offer activities that encourage a wellness-oriented approach to early recovery, including:
Exercise at our on-site fitness center
Yoga classes
Mindfulness meditation classes
Nutritional guidance
Creative therapies
To learn more about how our mental health program works, please contact us today.